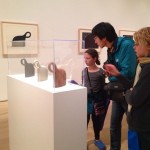 Right-Brained Studio is coming to Chicago! We're happy to offer this unique art experience for youth artists while we're here. On Wednesday 8/3 and Thursday 8/4, we'll be organizing 2 Workshop Field Trips to the Art Institute of Chicago, which include viewing art in the galleries, as well as an art project inspired by what we see.
*Art Institute Workshop Details:
-For youth artists 3rd grade through high school
-Private/Small Group, maximum 4 participants
-Hosted by youth art mentor Kelly D. Pelka
-Workshops run 2 hours each, from 2:30-4:30pm
-Transportation to and from the museum must be supplied by the participants
- Free admission to the museum for participants 14 and under
-Regular admission costs apply for participants over age 14.
-Tuition: $30 per hour for 1 participant, $25 per hour/per participant for 2 participants, $20 per hour/per participant for 3 participants, $15 per hour per participant for 4 participants. (i.e. 4 students for 2 hours: $120 total)
-All materials for the project included
-Participants can bring a snack from home or money to purchase food in the cafeteria
Please contact us today for more information and to reserve your space for this private or small group workshop. Only a few spaces left!

(*This workshop is organized by Kelly D. Pelka and is not affiliated with the Art Institute of Chicago.)