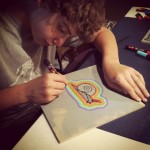 Customize your own Art Class schedule with Artist and Art Mentor Kelly D. Pelka!
Private art classes are customized for seriously committed youth artists as well as for those who just enjoy creating. Whether to focus on a specific medium, explore different art practices, build a portfolio for High School or college, private art classes offer a unique experience to work with a professional artist in a studio setting. Field trips can also be scheduled for outdoor drawing sessions, museum visits and more.
-All materials included
-Customize your schedule.  Meet for a one time workshop, once a week or more!
-Limit: 1-3 students
- Private Lessons are On-site at Kelly Pelka's Home Studio locations (Chicago, Humboldt Park/Portland, Mt. Tabor) as well as field trip options.

-Tuition for Private Lessons: $30 per hour for 1 student, $25 per hour/per student for 2 students and $20 per hour/per student for 3 students sharing a time slot.